We still have a seller's market in most locations and price ranges, but the current trends means the seller's advantage has very little momentum. Before buyer`s get too excited, the trends are very mild in nature. As such we do not currently see major increases in buyer's bargaining power coming anytime soon.
We experienced a seasonal price drop between June and July, but prices have already bounced back during August and are likely to remain on an upward track for the rest of 2017 at least. Of course, the market could change quickly, as it did in the summer of 2013, but there is not much sign of this in any of the numbers at the moment.
Market Recovery?
When do we know the Phoenix residential real estate market has "recovered"?  Many people assume when prices have returned to 2006 peak levels then the market has recovered.  However understandable, especially for those who purchased during that time frame, that's not necessarily the case.
Average sale prices per square foot are still 27% away from the peak of 2006.  However, the market could arguably be considered recovered once prices reach the range that corresponds to the long term average rate of inflation, which from 2000-2016 in the United States is 2%.  In 2000, the average sales price per square foot for MLS resales was $96. Had the bubble and crash never happened, and annual appreciation stayed between 2-3% per year as normal, then prices would land between $134-$158 per square foot today.  Currently they're running at $149, which equates to averaging nearly 2.6% annually and a 55% total gain since the year 2000.
Stay up to date on what's happening in Phoenix and Scottsdale real estate by subscribing to our monthly newsletter or following us at facebook.com/CarmelleAZHomes.
For a detailed breakdown on the market conditions in your area and how they may impact your goals to buy or sell, contact Carmelle AZ Homes at Info@CarmelleAZHomes.com or call 480-648-9253.
---
---
*The Cromford Market Index is a value that provides a short term forecast for the balance of the market. It is derived from trends in pending, active and sold listings compared with historical data over the previous four years. Values below 100 indicate a buyers market, while values above 100 indicate a seller's market. A value of 100 indicates a balanced market. 
Cromford® Market Index
Single-family markets in the 17 largest cities by dollar volume
This paints a pretty picture for sellers with 12 cities improving and only 5 deteriorating compared with a month ago. However 6 of those 12 improvements were of only 1% and if we look at the changes over the last week, several of them have reached an inflection point and are now in decline. These include Mesa, Chandler, Surprise and Goodyear.
We often see the market weaken during September and October as more new listings arrive ahead of the influx of snowbird buyers. However, to put things in their proper context, we remain in a seller's market with no index below 100 and only one (Buckeye) below 110.
Shared with permission of Cromford Associates LLC and Tamboer Consulting LLC ©2017.
---
Market Commentary – Supply
September 3
– It is interesting to compare days of inventory by price range and how this has changed over the last year. Here is the chart for September 2017: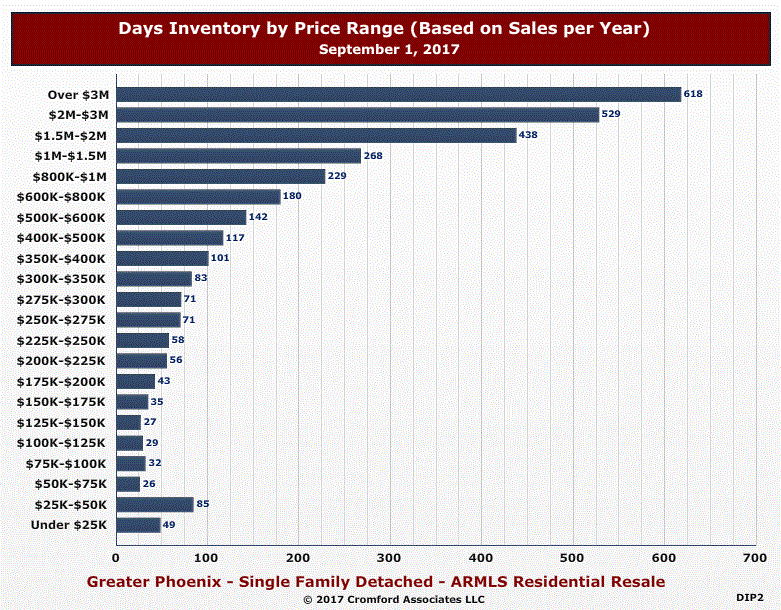 And here is what it looked like a year earlier:
As a buyer you would like as many days of inventory as possible, to give you more choice and put sellers under pressure from their competitors. In only 2 price ranges have we seen days of inventory increase – between $25K and $50K (up 31%) and between $1.5M and $2M (up 3%). The largest drops can be seen between $50K to $75K (down 58%) and over $3M (down 35%). The latter makes a big difference to the top end of the market. It is not due to a decrease in active listings, but to a large increase in the annual sales rate.
Significant falls in days of inventory apply all the way from $50K up to $1.5M. This is no surprise for the price ranges up to $500K, but unlike last year we are seeing major improvements between $500K and $1.5M.
All the above are for single-family detached properties within Greater Phoenix.
---
For Buyers
For Buyers:
Supply between $150K-$200k continued rising in August.  However the $150K-$175K range had a more dramatic rise.  While still 26% below last year, it rose 17% since the beginning of June, a strong departure from the weekly decline this market experienced in the first half of 2017.
For buyers in the rest of the market over $200K, nearly all price ranges are running lower than last year with the exception of the top tiers.  For those buyers who have seen every listing available and still haven't found a match, late September usually sees an increase in new listings across the board.  This makes the 4th quarter a good time to be a buyer.
Commentary written by Tina Tamboer, Senior Real Estate Analyst with The Cromford Report
Shared with permission of Cromford Associates LLC and Tamboer Consulting LLC ©2017.